Comprehensive Patient Care Philosophy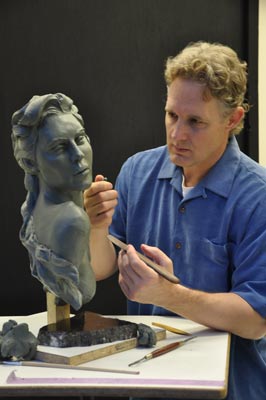 Dr. Peter Schmid and Sculpture
Dr. Peter Schmid's approach to his cosmetic and plastic surgery as well as his reconstructive work is a professional and thoughtful blend of communication, compassion and experience. For more than two decades, Dr. Schmid has helped thousands of women and men achieve their dreams of aesthetic improvement through non-surgical and surgical methods.
While improving or correcting the specific feature or symptom is his primary objective, Dr. Schmid spends time working with you and listening to your needs. Many patients enthusiastically express to Dr. Schmid and his staff that his consultations and subsequent surgery or procedure was "the most personal, educational and thorough" experience they have had in any medical setting. He listens carefully to understand your goals and ensure he is making the best recommendations for your treatment at the Institute of Aesthetic Plastic & Reconstructive Surgery. Instead of looking solely at a symptom or concern, Dr. Schmid takes a holistic approach to assess your overall health, motivations, perhaps even your social environment, so he may better understand you and your unique needs.
To optimize your results, Dr. Schmid recommends treatment plans that include preventing disease, anti-aging, skin care and improving your overall health and well-being. Dr. Schmid takes time to answer your questions, and help you understand what to expect, including the benefits and risks of each procedure. Visual aids such as our state-of-the-art imaging computer and patient before-and-after photographs reinforce communication and help you imagine your possibilities.
Dr. Schmid's expertise in creating natural, non-operated looking results is credited not only to his experience and surgical finesse, but also to his artistic talent. As an accomplished sculptor, Dr. Schmid's adept transformation of the conceptual to the visual translates to successful surgical results. This process is the culmination of a lifetime of devoted study and appreciation of humanity and the arts. His artistic eye for aesthetic harmony are keys to Dr. Schmid creating beautiful, natural looking results in cosmetic surgery.
Dr. Schmid's personalized approach and insightful appreciation for individuality, means that your cosmetic plan will be tailored to you, your gender, your ethnicity, your personality, your lifestyle. And your treatment at the Aesthetic Institute of Aesthetic Plastic & Reconstructive Surgery is guaranteed to be professional and memorable.
Cosmetic surgery is an extremely personal decision. While it is often a liberating and uplifting experience, Dr. Peter Schmid understands that, for some people, seeking cosmetic surgery may evoke feelings of uncertainty. From your initial consultation throughout your recovery and beyond, Dr. Schmid and his experienced staff are dedicated to guide and support you.
Dr. Schmid currently services Denver, Longmont and Boulder County in Colorado. Contact the Institute of Aesthetic Plastic and Reconstructive Surgery to schedule your consultation.